Greetings All!
I hope everyone is enjoying the Holidays and getting some much needed rest in between competitive seasons! As you prepare for the next season, I would like to invite all directors/instructors/techs and judges to our annual training on December 9, 2018 at Jenks High School.  This comprehensive training is geared to be extremely beneficial to both directors and adjudicators and is free of cost.  As I'm sure most of you are in the planning process of your winter shows, this training event should prove to be tremendously helpful, not only in the planning for your winter programs but also in your growth as an educator.
With that said, our featured clinicians are as follows:
Derek Smith – Derek is a widely respected adjudicator, designer, instructor, and clinician for marching bands and winter guards across Michigan and the Midwest. He has been the director and designer of the 19-time WGI Finalist Interplay Winter Guard since 1997. He was also inducted into the Michigan Color Guard Circuit Hall of Fame in 2009.
Susie Harloff – Susie lives in Avon, Indiana, where she was a director, choreographer, instructor and technician for the Avon High School color guard programs and currently serves as the Middle School color guard director
Richard Saucedo – Most recently the Director of Bands and Department Chairman at the William H. Duke Center for the Performing Arts at Carmel High School in Carmel, Indiana, Richard L. Saucedo retired at the end of the 2012-13 school year after teaching for 31 years. Under his direction, Carmel bands received numerous state and national honors.
What an honor to have such top-notch educators work with our circuit this season!
Circuit Training Location:
Jenks High School
Band Room
205 East B Street
Jenks, OK 74037
*The Band Room is located directly next to the train tracks; look for the building with very large music notes & staff
Below is the clinic agenda:
8:30 – Registration
Make sure to sign-in when you arrive as those who attend will NOT be required to take the assessment & will be approved for Judges Critique during the 2019 competitive season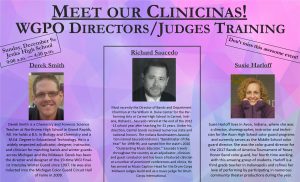 9 a.m. – Understanding the Sheets – WGI
Derek Smith
10:30 a.m. –  Show Design & Development
Derek Smith
12 p.m. – Lunch (on your own)
1 p.m. – Judging Downstairs vs. Judging Upstairs
Derek Smith
2:30 p.m. – Building Better Performers
Susie Harloff
3:30 p.m. – Creating a Safe & Professional Environment In & Out of Rehearsals
Richard Saucedo
4:40 p.m. – Adjourn
I truly believe that this training will be beneficial for all those involved. The growth of our circuit lies in the hands of our directors and judges. As with any educator, you must be willing to grow with the trends of the industry. Let's start this season of right with some purposeful professional development!
As your Director of Education, please feel free to contact me with any questions concerning your group.  I am here for you!
I look forward to seeing you in 2 weeks!
Mrs. Jara Clark
Jenks Public Schools
Guard Director
(918) 724-7218
Jara.clark@sagenet.com
www.jenksband.com