WGPO Scholarship 2020 – Ila Thornton
Unit:  Memorial Independent Winter Guard
Parents: Owen and Pamela Thornton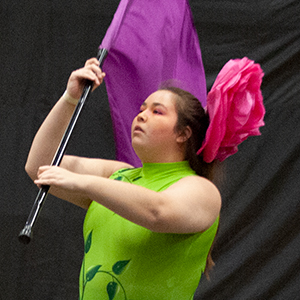 "I have not only gained self-confidence and have learned things about myself, but I have also learned what it means to work hard, and what it means to be a leader…My love for this sport of the arts has changed my like in the best way possible." ~ Ila on her experiences in guard.
Ila has been a member of the Cleveland High School Band and Color Guard.  Ila plays the saxophone. She is also a cast member of the Memorial Independent winter guard program. Ila has maintained a 3.63 GPA throughout her high school career.  Ila is also member of  FCCLA, NHS and FISH.  Ila plans to attend The University of Tulsa to study Library and Information Sciences. 
"Ila is one of the most reliable students in our guard. She has been incredibly helpful and stands out as a leader amongst her peers. She continually goes above and beyond my expectations for a performer. Her performance skills are excellent and her confidence is her work sets her apart from many of the students I have worked with in the past 20 years." ~ Kristina Cobler, Director Memorial Independent 
Congratulations Ila!!!