SRB
1st Place- Hilldale Crimson Vanguard
2nd Place- Checotah B
3rd Place-  Holdenville HS
SRA
1st Place- Owasso B
2nd Place- Adair HS
3rd Place-  Haskell HS
SB

1st Place- Bixby HS
2nd Place-  Coweta HS V
3rd Place-  Bartlesville HS V

1st Place- Jenks HS
2nd Place- Owasso A
3rd Place- Union HS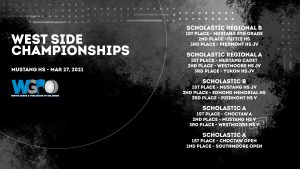 WEST CHAMPIONSHIP Rankings
SRB
1st Place- Mustang 8th Grade
2nd Place- Tuttle HS
3rd Place- Piedmont JV
SRA
1st Place- Mustang Cadet
2nd Place- Westmoore HS JV
3rd Place-  Yukon HS JV
SB
1st Place- Mustang HS JV
2nd Place- Edmond Memorial HS
3rd Place-  Piedmont HS V
1st Place- Choctaw A
2nd Place- Mustang HS V
3rd Place- Westmoore HS V
SO
1st Place- Choctaw Open
2nd Place- Southmoore Open
2021 Summer Meeting
Saturday, June 12
3:15pm
Newly Elected Officers:
Chelsea Arenas, President
Nicole Bayliss, Vice President
Michael Clark, Treasurer
Jeremy Stevens, Judges Coordinator
Adam Wiencken, Percussion Coordinator
2021 SCHOLARSHIP RECIPIENTS
WGPO is happy to  announce that the following scholarship applicants will be receiving scholarship money through WGPO! We are so excited to be a small financial step with your future endeavors. A huge CONGRATULATIONS goes out to all of our recipients!
2021 WGPO Scholarship Awardees:
Alexis Harper (Southmoore)
Alyssa Shuler (Southmoore)
Courtney Armstrong (Westmoore)
Eliana Hall (Union)
Emily Speer (Atoka)
Melinda O'Brien (Union)
Nichole Pickard (Coweta)