We would like to invite all WGPO Percussion Directors, Instructors, and Judges to our annual Percussion training on Saturday, December 8, 2018 at Broken Arrow High School.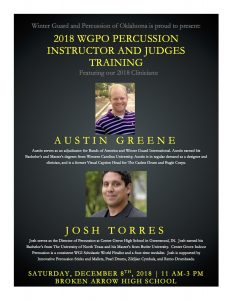 We are excited to feature two guest clinicians with us for 2018: Austin Greene and Josh Torres
 Percussion Circuit Training Location:
Broken Arrow High School
Band Hall
1901 E Albany
Broken Arrow, OK 74012
Saturday, December 8th
Clinic Start Time: 11:00 AM
Clinic End Time: 3:00 PM
Items Included for Discussion (but not limited to) :
Understanding WGI Sheets and Terminology
How to Prepare for Critique
Creating productive dialogue in Critique
Prepping Your Ensemble for the Competitive Season
Strategies for Day-Of Competitions
Video Analysis/Group Discussion
There will be beverages and food provided throughout the event; we plan on taking a short 30 minute break in the middle of the clinic for Q & A.
There will be a PowerPoint presentation of info covered for those unable to attend. If you are unable to attend, you MUST pass an assessment based on said PowerPoint presentation BEFORE you will be able to participate in Judges Critique after contests in the 2019 season.
The assessment will be posted on the WGPO website & a direct link will be posted on this Facebook page in the weeks following December 8th.
Make sure to check-in when you arrive at Broken Arrow as those who attend the Training Event on December 8th will be approved for Judges Critique during the 2019 competitive season.
We look forward to seeing you all December 8th at BAHS!
~Adam Wiencken Percussion Coordinator, Winter Guard and Percussion of Oklahoma
Austin Greene
Austin Greene is a professional visual designer and instructor from Raleigh, NC. Mr. Greene is an adjudicator for Drum Corps International, Bands of America, Winter Guard International, and numerous local circuits. He served as an instructor and Visual Caption Head for The Cadets Drum and Bugle Corps from 2012-2015. He has served for four years as a program consultant for the Bands of America Grand National Finalist Kennesaw Mountain High School Marching Band and works with the Western Carolina University "Pride of the Mountains" Marching Band. Mr. Greene attended Western Carolina University where he earned his Bachelor of Science Degree in Music Education in 2003. He went on to earn his Master of Music in Conducting Degree from the University of Connecticut in 2006. Mr. Greene is in regular demand as a designer, clinician, and adjudicator throughout the United States and abroad.
Josh Torres
Josh Torres currently serves as the Director of Percussion at Center Grove High School in Greenwood, IN. Josh earned his Bachelor's Degree in Music Performance from The University of North Texas and his Master's Degree in Percussion Performance from Butler University. Center Grove Indoor Percussion is a consistent WGI Scholastic World Finalist and a four-time medalist.  Josh serves on the WGI Advisory Board and is a Past-President of the Indiana Percussion Association and the Indiana Chapter of the Percussive Arts Society. He is proud to be an Innovative Percussion Artist, Pearl Educational Artist, Zildjian Artist, and a Remo Artist.